IRONMAN 70.3 Vietnam 2018
Ironman 70.3 Vietnam is one of the race that famous by the soaring heat. People said it is always that 21k run in 41-44C making it challenging for past 3 years!
Nobody like running in that heat, however we have a few brave no-brainers signed up at the time we were brainstorming our first target race within Sonic that most people can aim for! Then the wheels start spinning and snowball effect kicked in!
So we got the common goal, let's work on it! It's going to be a great success of Sonic if we manage it well!
I've been working on the training plan for Dre and Serena, it has been working well then including Brandon and Adrian into my pilot training program. I have a great 5 months of journey as a athlete, team manager and coach. Coaching is about sharing the knowledge and experience, it's also about being a role model to inspire people training around you. Most importantly it's the 2-way communication we learn from each other!
In the past 5 months, when it was 8C we went swimming, when it was cold and rainy evening we went running, when it was gloomy and windy morning we went cycling; when it became warm we put on additional layer of clothes and keep on running; all these little steps built our body and mind, but they are just the fundamentals of IRONMAN training. In the extreme condition, only the great mindset win. This is what I keep emphasizing to the team during our hardest week and last pre-race briefing.
Approaching the race day, it was hot and wavy. When we swam part of the course on Sat there were lot of waves like east wind L4-5 in Shek O, there were a strong current at some point, I did a confident check to few of us, they are all fearless and positive! Great feedback! There were a moment of talk about the race may switch to Duathlon format due to the wavy condition, but the sea eventually calm down to allow the proper format to carry on.
It is one of the finest moment of Team Sonic in the recent year, I was little worry for the first timers but eventually they could all manage their own, and made great result!
*Alfred Siu finished: 5:17:48
Dre finished 5:55:54 (PB)
*Adrian finished at 5:57:37
Chris Lee finished: 5:59:21 (PB)
Charles Hui finished 6:19:19
*Brandon Li finished: 6:20:50
*Serena Shing finished: 6:40:27
*Big Head finished: 6:48:04
*Catherine Li finished 7:17:33
*First 70.3 finisher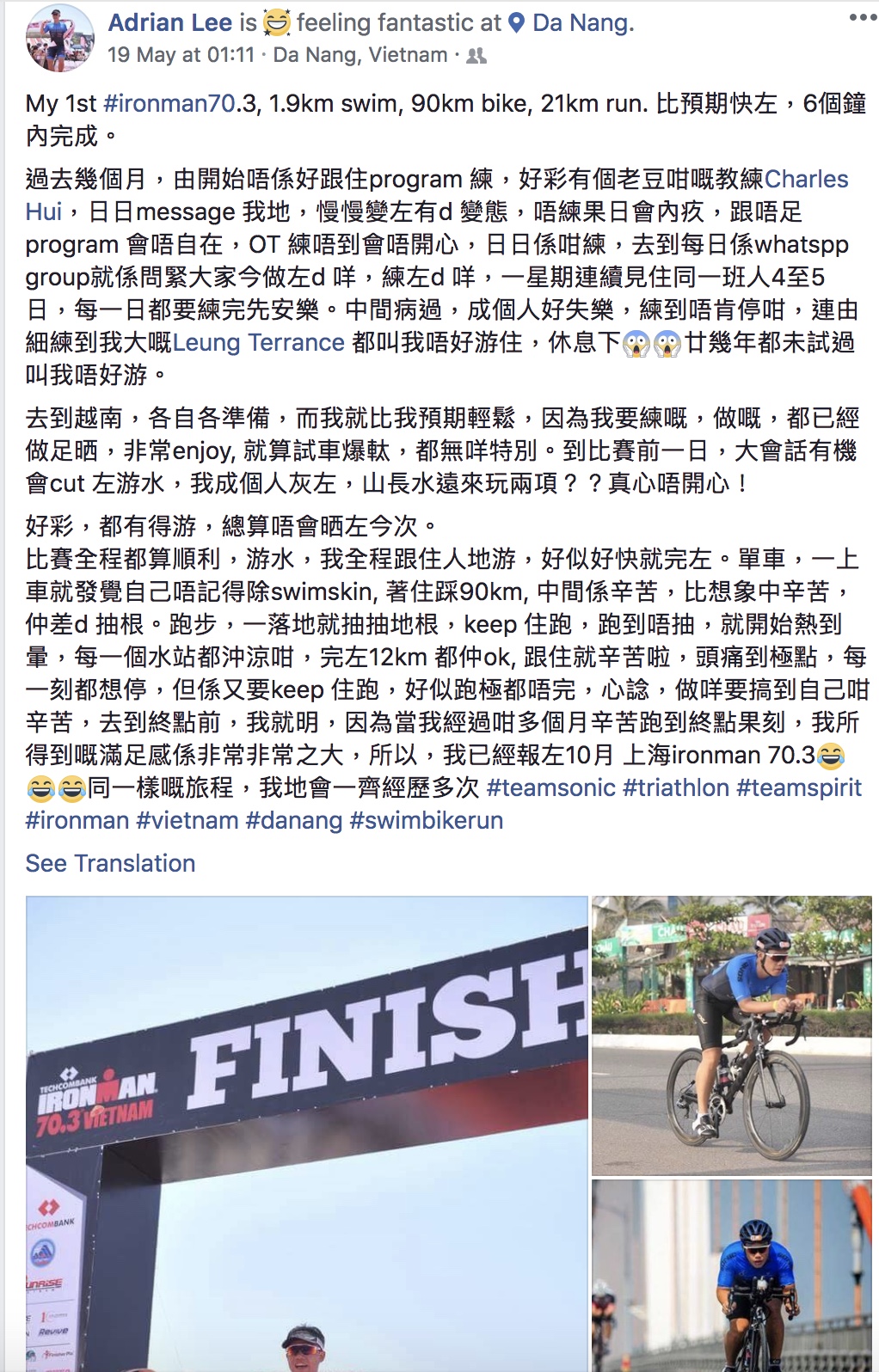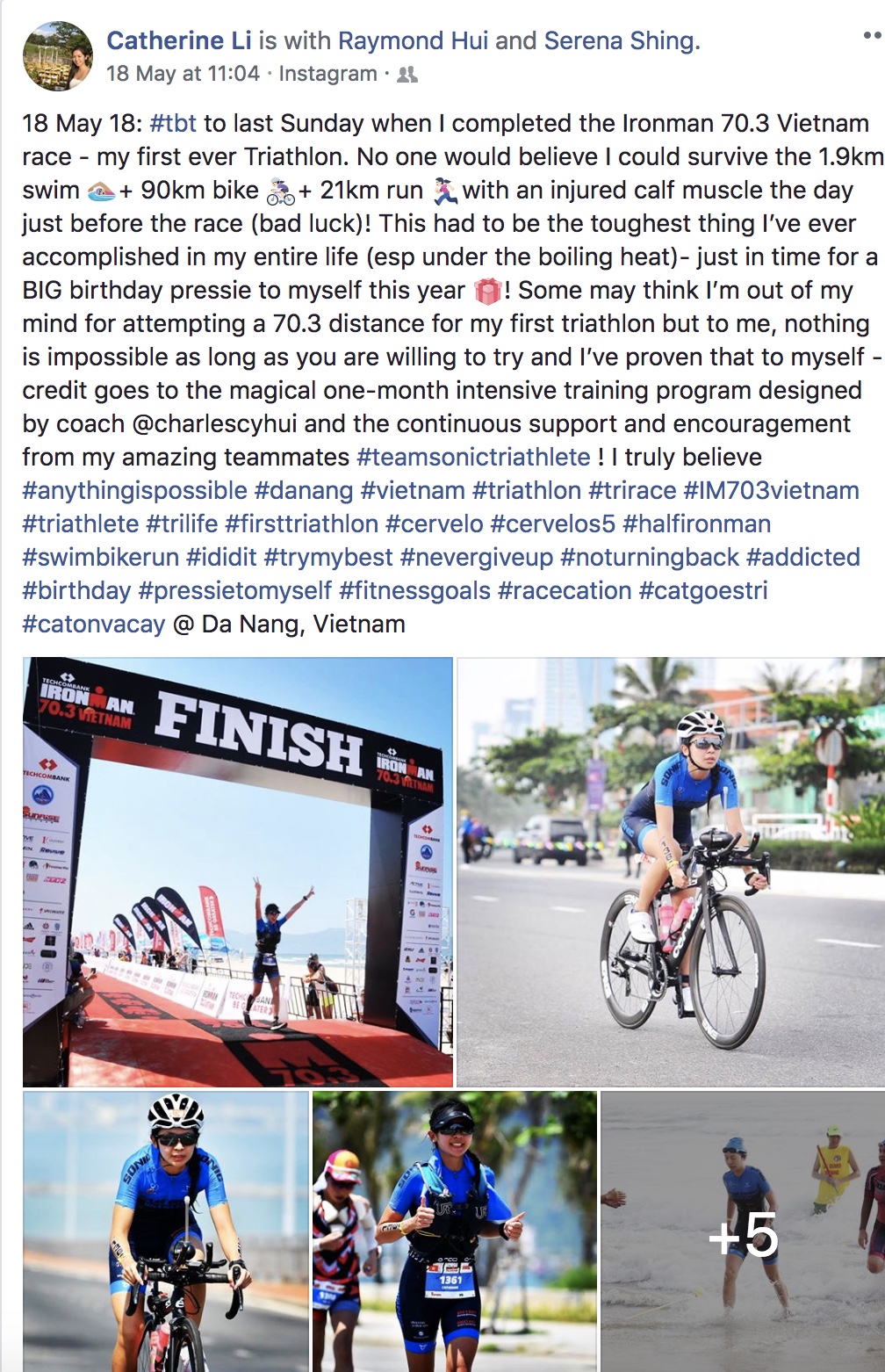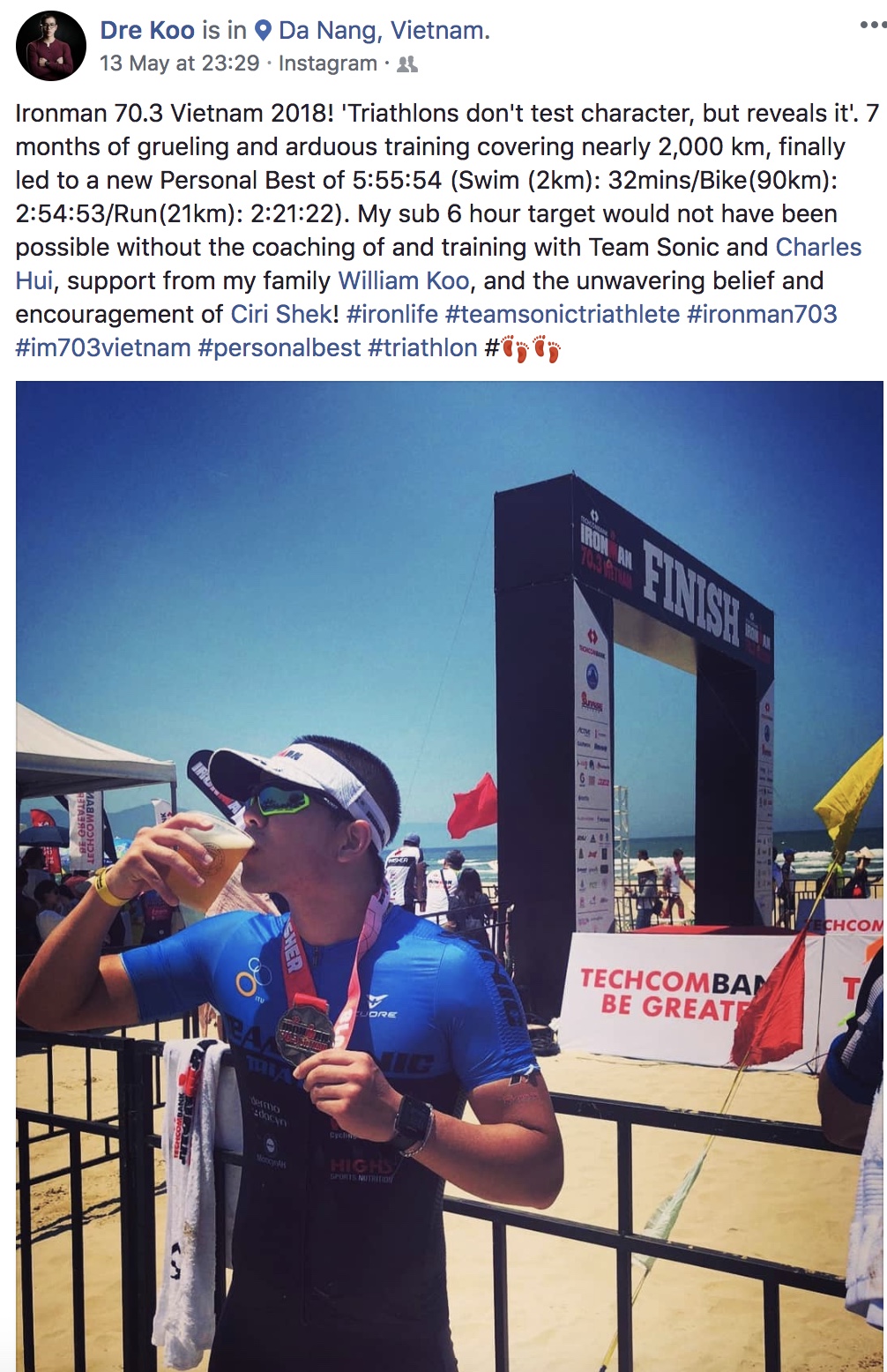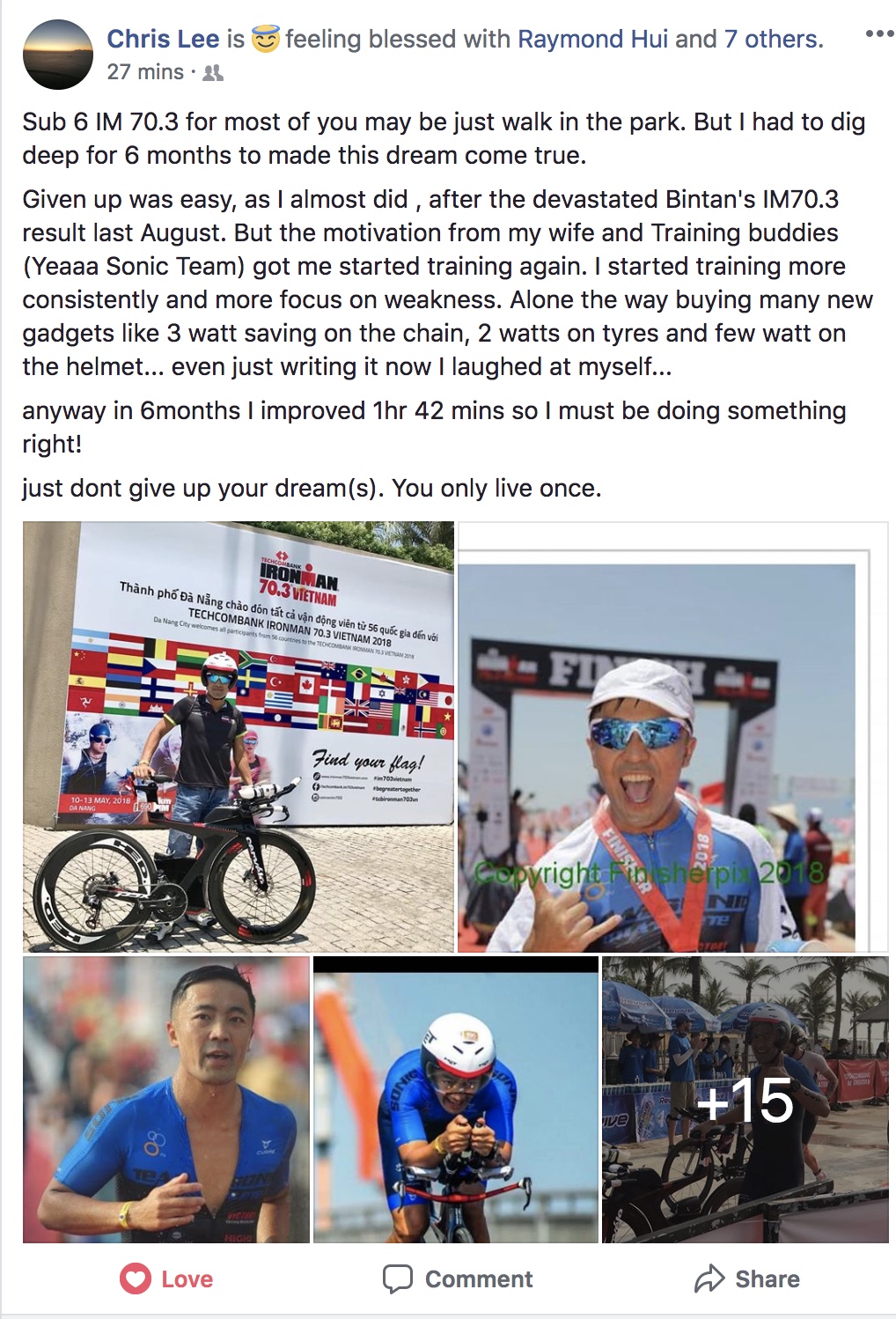 I need to thank you coach David Leung keep driving the quality set on every Monday and Wednesday. My wife Gigi Wong for the unconditional support behind us. I also thank you to Serena, Dreyfus, Adrian and Brandon for your trust and dedication in the past few months, and bringing in Catherine who signed up the last minutes and making the impossible became possible; bringing in our swimmer boys Alfred and Raymond aka BigHead, Alfred is a hardworking triathlete who aim high while BigHead is a casual happy man didn't have much idea on training then got inspired and moved into right track. I am more than happy to work with you two in the future to maximize their potential; Last but not least we have Chris Lee our Dermodacyn CEO that made 1.5hrs+ improvement over his last record that's all coming from the help of all #teamsonictriathlete to develop the great training atmosphere and attitude in the last few months.
Take a good mid-season break for your mind, spend some time with your family and love one, we will re-group and prepare for the next game! Your great mindset win!
Photos credit to Jack Ah Beh