November/December 2011
Sonic newsletter: November/December
After a lot of racing and hard work, we are finally in the off season. It's the time to wrap up your achievements, start planning on next race goal, heal your injury, work on the technique, and spend time with your friends and family that you've missed out during the race season, and be a well-balance triathlete!
BMW Destination Ironman 70.3, Taiwan, 5 November
A key race for Sonic, after 6 months of training and preparation, a large contingent travelled to warm and beautiful Kenting and enjoyed fantastic success across male, female and relay categories.
Water condition was perfect and crystal clear; just you can't imagine how rough would it be while you're competing the swim against 1500 triathletes altogether. Lot of elbowing, kicking, catching feet, losing googles and some even lost the Polar watch! You don't feel like that we don't call it an Ironman swim. The famous Kenting wind was settle a bit this year but the draft marshall was really doing their job, so the penalty box always fill with one or two people. The real race always begin in the run, everybody suffered and just how much you can tolerance in the hurt box. The good result coming from the consistent training and mental toughness!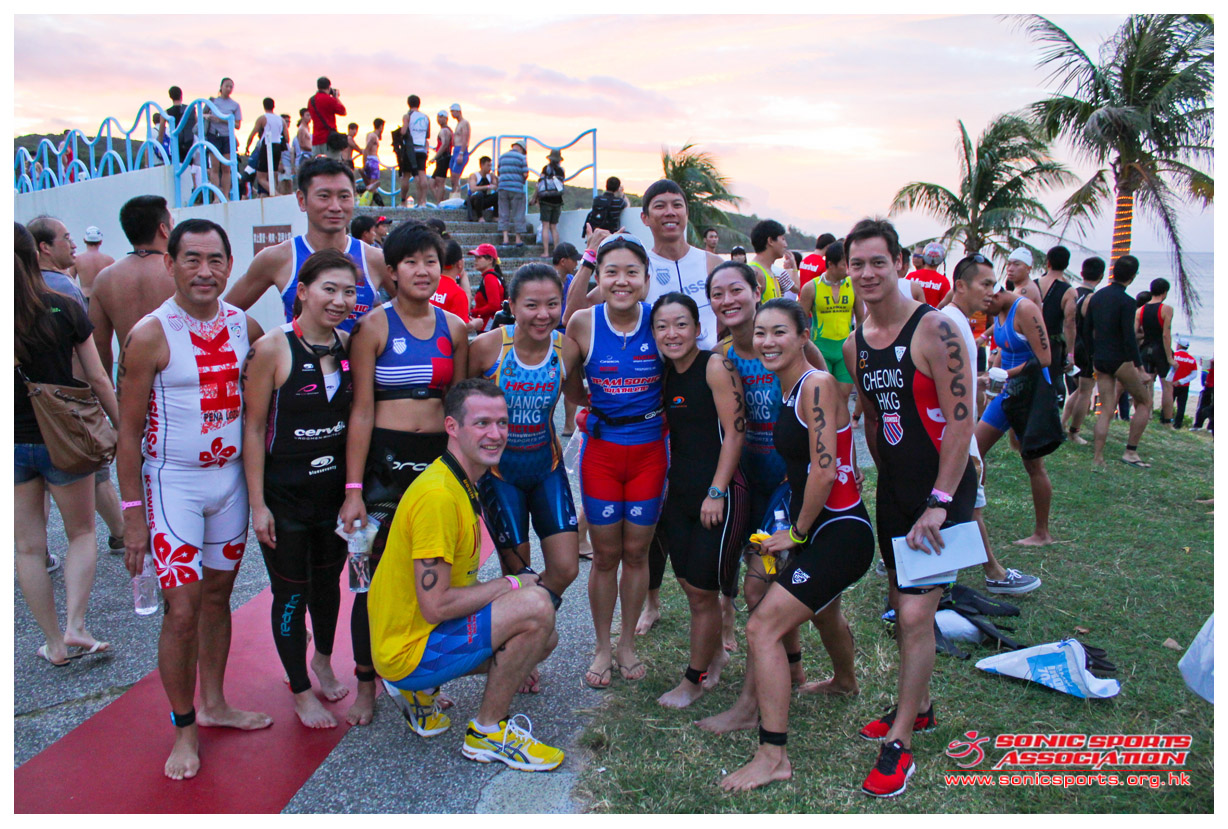 The ever-strong Michal Bucek was second in his age group 30-34 with Andy Patrick recovering from a disappointing Ironman in Las Vegas to finish second in the 50-54 age-group category in a time 5.07.25. Janice Lee was the club's highest-placed woman: third in the 25-29 age-group with a time of 5.57. Other successful team-mates include Evangeline Quek who was fourth in her age group and Sonic was well-represented in the women's 30-34 age group with Stephanie Yeung who was sixth, Gigi Wong who came ninth and Adelyn Cheong who was just behind in 10th. In the next age-group up, Teresa Mak was 10th and the club's relay team Relay No More II were second. The successful relay team was formed by Sonic guest Mari Niiro, new member Sacha Cheong, and our famous Frederic Beaujean.
In fact, Sonic men also doing very well in the race, let's keep up the good work and keep improving next year!
As you can see from the picture, the team enjoyed celebrating its success.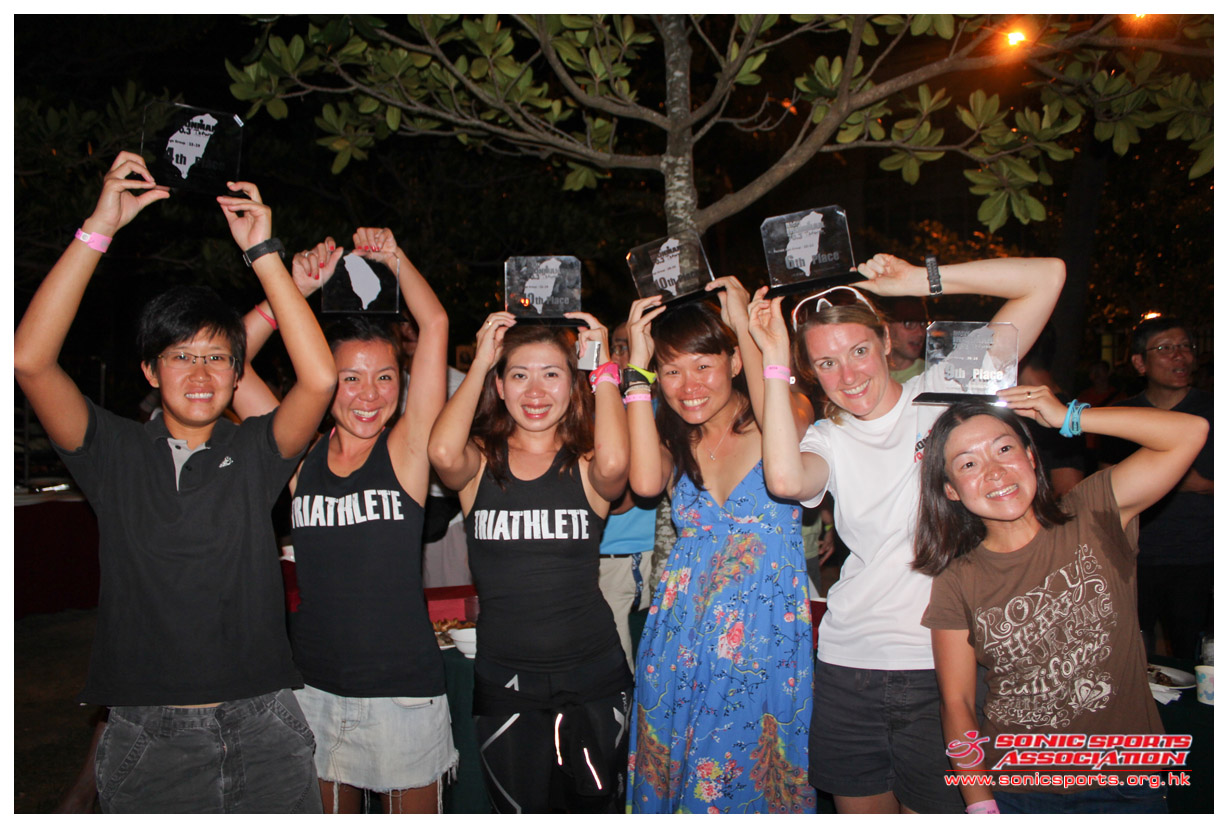 Sonic Time Trial 4, 20 November
Out at Sunny Bay, It's the fourth Sonic Time Trial for the 40km bike ride along Cheung Tong Road. It was a good preparation for those want to test their new bike new gear or prepare for the Phuket Triathlon. Coming in first for the men was Clinton with Adelyn Cheong the quickest female. Special mention to Sonic Sacha who produced a powerful bike split and Kim Lai who attempted her first non-stop 40km bike ride despite the windy conditions.
Thanks to everyone who supported the club's time trial series this year. After this race, the overall Sonic Time Trial series award winners are:
Men:
Champion: Andy Patrick
First runner up: With the same number of points are Yvan Cornve, Christopher Tong and Sebastien Stoffel
Second runner up: Eric Chan
Female:
Champion: Janice Lee
First runner up: Adelyn Cheong
Second runner up: Jeanette Wang
For full rankings, you can look up:
RANKING
Laguna Phuket Triathlon Festival
Laguna Phuket Triathlon on 27 November
Phuket 70.3 Asiapacific Championship on 4 December
That's the week of triathlon event happening in Laguna Phuket Resort!
The week was first kicked off by the Laguna Phuket Triathlon (LPT) consists of 1.8k swim, 55k bike and 12k run. That was the race to reunion with some of the Sonic from Singapore, Shanghai and US! 16 of us sharing 2 villas with a lot of Tri-Talk and sharing some good laughs!
The LPT race day was sunny and fine without Jelly fish attacking, our Italian Timothy Cosulich had a fantastic swim split and exit the water with female Pro Belinda Granger, just he had lost some time by two minor bike crashes and finished the race at 4th in his age-group. Sonic Party Girl Janice Lee finished strong at 3rd in her age-group and Sonic Kona Girl Joey-Lynn Musselman finished in 2nd in her age-group, after her success at Ironman World Championship at Kona, Hawaii in October. Andrew Patrick was sadly DNF by hurting the calf and caught cold, Frederic Beaujean was DNS and turning himself to be a photographer for the team along the race course!
The LPT Post-race party was as crazy as always!
"It's not about the race, the race is just to keep our body in good shape to make sure we look good and sexy in the post-race party!"
– Charles said.
Charles on podium...dance!
Joey and Janice with their trophies
LPT crew chill time in Phuket island
Andy Patrick climbing the steep hill
The LPT crew then spent a few days to wire down and doing some recovery swim, bike and run in Phuket before handover the race clothes to more hardcore 70.3 warriors!
Nobody wants the rain for the race in Phuket because there are a few steep climbs and descents in the bike course! Wet conditions made for slippery hills but at the same time, allowed for cooler condition for the run. Shaun Mullen had a fantastic swim split at 29:47, his girlfriend Louise Wheeler had been very busy at work and lost track at training, somehow still made to the finish the 70.3. Sacha Cheong continues his success from Taiwan and attempted his first 70.3, nicely removing the title of one-sixth Ironman with strong bike and run split. Singapore fastest Ironman triathlete Jeanette Wang of Sonic finished 3rd in her age-group, Joey-Lynn Musselman finished in the fifth in her age group 45-49 years Andy Patrick recovered from illness to finish a strong 12th in his age group, the men's 50-54 years. Social success was enjoyed at the post-race celebrations.
Jeanette Wang in the strong run
2011 Kam Sheung Road Duathlon, 11 December
The well-organized Titan Kam Sheung Road Duathlon happened on 11 December, the cooler temperature and dryer condition made the best setting for bike and run events. Some of the Sonic done this race, finished on podium and bring home with price money!
Christina Lee 3rd in age-group, Billy Chow champion in age-group, Michal Bucek 2nd in age-group.
Sonic End of Season SUPERSTAR Party
The 8th Sonic End of Season Party was successfully held on 17th December right after the Tri-HK AGM!
This time we've invited a lot of superstar from difference ages of spaces to our party, we have Egyptian queen, Star War princess, James Bond, Greece Knight, Spartan, James Bond, Sherlock Holmes, Street Fighter….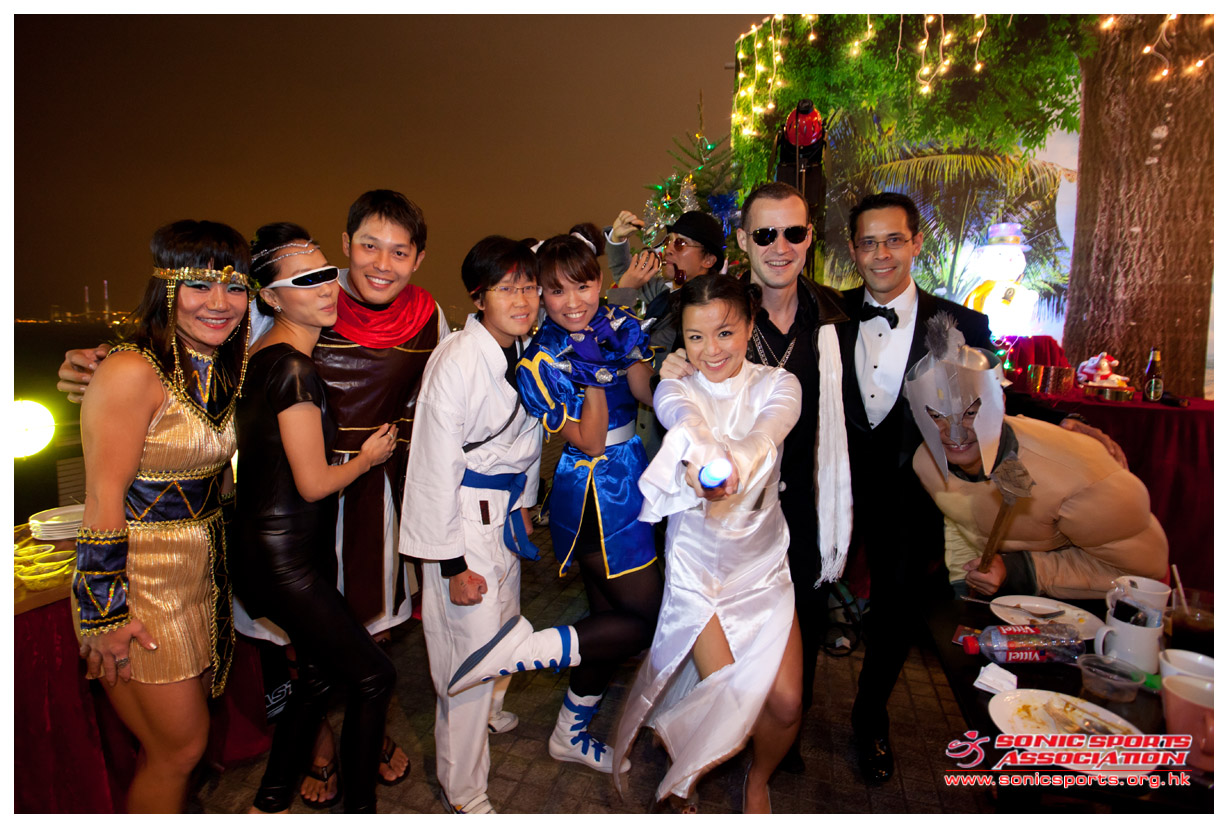 And of course a few round of lucky draw to give away a lot of bike, and run kits, goodies bags, helmet and even gift vouchers!
We also have the following awards presented on the night:
Sonic Triathlete of the Year: Andrew Patrick, Gigi Wong
TriA series: Michael Lam, Kelly Law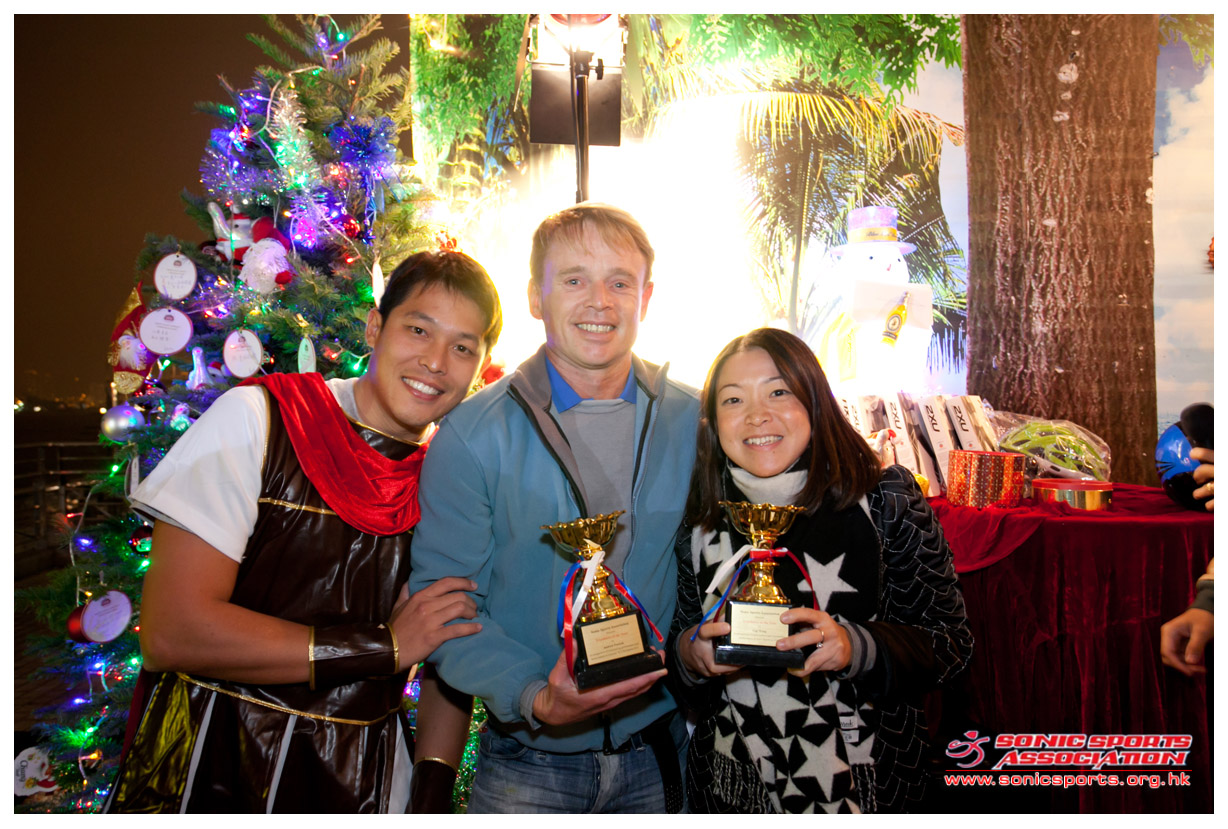 Sonic Best Improvement Awards: Frederic Beaujean, Simon Jones, Evangeline Quek, Adelyn Cheong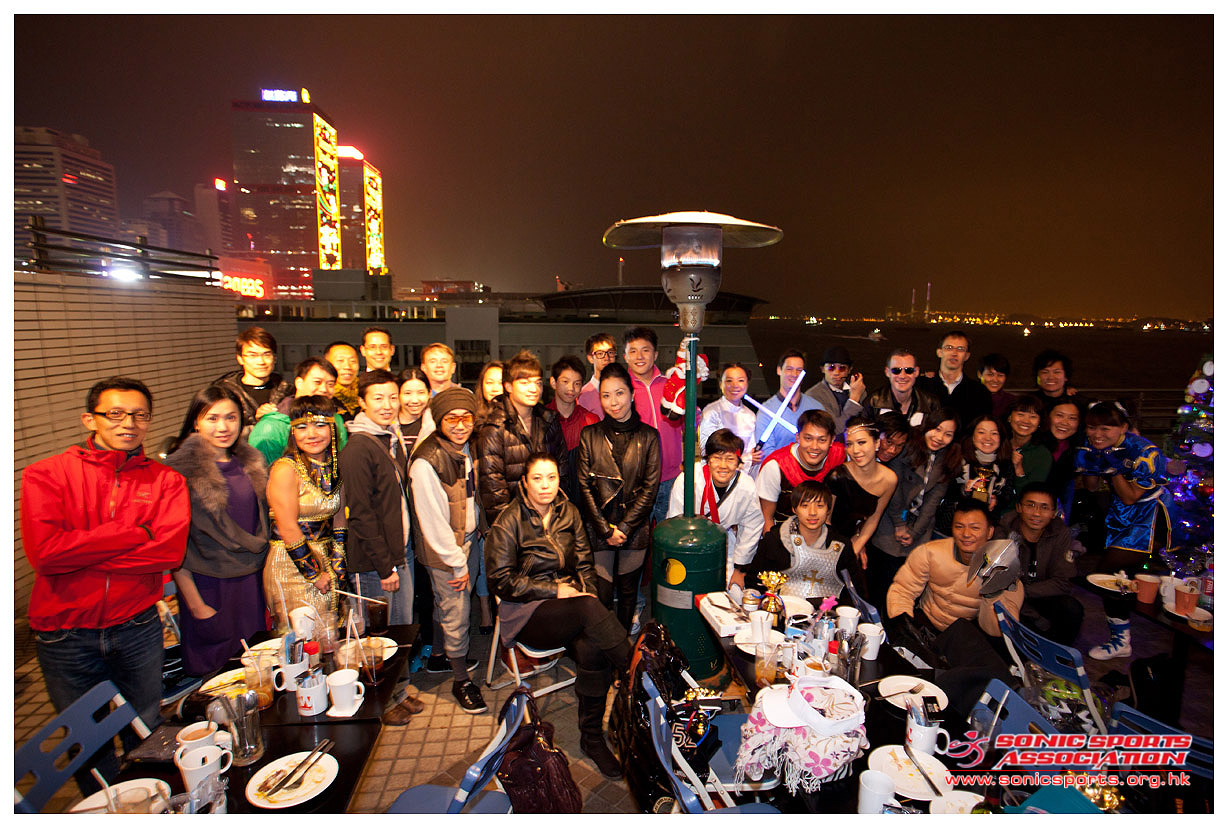 Once again, We here appreciate all the members participation in Sonic training and events, trained hard and representing Team Sonic for the shining result.
We also thank you to all our supportive sponsors sponsoring our lucky draw items to made the party successfully! Namely TriSports.HK, SportsWorld, Victory Cycling, 2XU HK, Newton Running, Aquadiva Swimwear Hong Kong, Easton Bell Sports, Luma and Bike City.
Sonic Triathlete Awards
Since 2009 Sonic Sports Associations have awarded the Triathlete of the Year trophy to recognize the members of Sonic who have particular success in events, made an outstanding achievement in triathlon and made significant contribution to Sonic Sports Associations along the year.
We apply the following criteria when deciding the awards:
1. Attendance to club training and activities
2. Participation and achievement in local and oversea races
3. Contribution to the club
4. Sportsmanship and Ethics
Please direct all nominations and comments to the Chairman and Club Secretary
We've added this section on Sonic website for the "Roll of Honor" since 2009!
http://sites.sonicsports.org.hk/Home/triathletes-of-the-year
Member Profile - Gigi Wong
This time we interviewed our newly Sonic Triathlete of the Year - Gigi Wong to share what made her to Sonic and doing this sports for 7 years! See
THIS!
Training update
Wan Chai Sports Ground and Training Pool will be closed for maintenance from mid-December. Effective from 14 December until 31 January 2012:
Monday: 8pm-10pm Run at Happy Valley running track
Wednesday: 8pm-10pm Swim at Morrison Hill Swimming Pool
Sunday: 7:30am-10:30am Swim/Bike/Run at Shek O Beach
No training on public holiday (26/12 and 2/1)
The club Training Calendar has been updated and you can add it to your Google calendar or iPhone: https://sites.google.com/site/sonicsports/Home/sonic-training
Membership registration and renewal for Sonic and TriHK
Membership registration and renewal are currently progressing.
Sonic members should fill out and print the Sonic AND Tri-HK membership form for 2012 membership. Please return to Kenneth or Charles the two paper forms along with a cheque or bank receipt for $350 for adults or HK$160 for students for Sonic AND Tri-HK membership.
Membership analysis in 2011
Last portion of the newsletter is always for the keen members if you read to this line.
The last membership analysis Sonic Secretary office has done was in 2008.
The analysis showing the membership of Sonic is steadily growing since 2003.
Gender distribution is also slightly shifting from 70/30% in 2008 to 60/40% in Male to Female ratio.
In nationality population, British troop became the 1st non-local membership base while French and Singaporean are right after.
The analysis showing Sonic Sports Associations is still growing in the last eight years even though we've been facing a lot of challenges, the sports of triathlon is getting more popular in Hong Kong and more Triathlon Clubs are setting up and promoting the sports in the healthy way. And more women are willing to spend time on fitness and endurance sports.
It's also showing Sonic is still the inclusive club with cultural diversity and strong atmosphere in training and racing.
Let's keep up our spirit and to welcome the more exciting year of 2012!
Team Sonic is One Team, One Spirit.
Upcoming races
Kaoshung Love River Triathlon, 3 March 2012
The event involves a 1.5km wetsuit swim starting from a pontoon in the Love River. The bike leg is five laps of the downtown area crossing two bridges, mostly flat. The run is four laps along the river and across two bridges. Prize money for overall placings includes $30k for the winner with $20k for second place, $15k for third place, $10k for fourth place and $8k for fifth. Age group money extends to $5k for first placem $3k for second and $2k for third. Link (Chinese): http://www.ironman.url.tw/2012raceinfo3.htm
Kent Wong will co ordinate a small group to travel to Kaoshung to leave Friday at noon and returning on Sunday night, with hostel accommodation for around HKD$250 per night. Contact Kent if you're interested: pkkentwong@gmail.com
August 2012's Ironman 70.3 Philippines will take place in Cebu, the entrance is filling up quickly. Email Kent Wong urgently for accommodation and flight information: pkkentwong@gmail.com
Some of us done Philippines 70.3 at Camarines Sur had a fantastic and eyes open experience in terms of the race organization and meeting some local tri-teams, post race party was also great! You can see some pictures from
Sonic Photo Album
Hong Kong Triathlon Associations
and
ITU Triathlon
also updated their race schedule.
January 15: TriHK Duathlon 1
February 12: TriHK Duathlon 2
February 19: Sri Lanka 70.3 and 5150
March 3: Kaoshung Love River Triathlon
March 4: TriHK Duathlon 3
March 18: Singapore 70.3
April: Sonic Training Camp
April 12: Fuzhou ITU
April 15: TriHK Aquathon 1
May 6: TriHK Age-Group Triathlon
May 6: Subic Bay ITU
June 3: TriHK Age-Group Triathlon
July 8: TriHK Aquathon 2
July 15: Singapore ITU
August 5: Philippines 70.3
August 26: TriHK Aquathon 3
September 9: TriHK Aquathon 4
September: Japan 70.3
October 14: TriHK HK Triathlon
October 17: Auckland ITU World Championship
November 4: TriHK Aquathon 5
November 4: Taiwan 70.3
November 18: Sanshui ITU
December 2: Phuket 70.3